Groupon: Nepal: 10 Day Explore Nepal Package with Meals & MORE for 1 Person by Himalayan Social Journey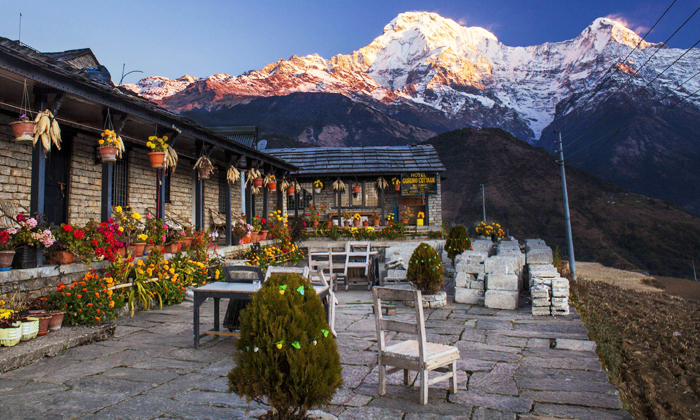 Groupon: Nepal: 10 Day Explore Nepal Package with Meals & MORE for 1 Person by Himalayan Social Journey
Highlight
Deal Attractions
10 Days Explore Nepal Package
Airport Pickup & drop
Accommodation in Three/ star category hotel ( Hotel Holy Himalaya or similar category) in Kathmandu, Hotel Splendid view or similar in Pokhara and Hotel Hermitage in Chitwan with breakfast in twin sharing basis
All meals with program in Chitwan
Rafting in Trishuli river with meals
Necessary equipment for rafting(Paddle. Helmet etc.)
Kathmandu city tour by car/van/hiece with English speaking guide
Transportation by deluxe tourist coach Kathmandu- Chitwan- Pokhara -Kathmandu
Accommodation in lodge with breakfast during the trek days.
Highly experienced, helpful and friendly guide, porters (1 porter for 2 people), their food, accommodation, salary, equipment's, insurance)
Farewell dinner with cultural program
Necessary equipment ( Sleeping bag, duffle bag and trekking pole)
City sightseeing entry fees in Kathmandu
Government tax and service charge 
Click here to see the detailed itinerary
Click here to see the departure dates
The Deal
The home of Buddha, Nepal is a mystical, mountainous land crowned by the soaring snow-capped Himalayas. Trekkers find Shangri-La here among the craggy peaks, ancient cliff-top monasteries, fluttering prayer flags, high-altitude market towns and friendly Sherpa villages, before resting up in the mad metropolis of Kathmandu.
Choose from the following:
Offer 1 for an Adult - Rs.28999 per person instead of Rs.56000: 10 Days Explore Nepal Package
Offer 2 for a Kid - Rs.14499 per person instead of Rs.28000: 10 Days Explore Nepal Package
Inclusions:
Airport Pickup & drop
Accommodation in Three/ star category hotel ( Hotel Holy Himalaya or similar category) in Kathmandu, Hotel Splendid view or similar in Pokhara and Hotel Hermitage in Chitwan with breakfast in twin sharing basis
All meals with program in Chitwan
Rafting in Trishuli river with meals
Necessary equipment for rafting(Paddle. Helmet etc.)
Kathmandu city tour by car/van/hiece with English speaking guide
Transportation by deluxe tourist coach Kathmandu- Chitwan- Pokhara -Kathmandu
Accommodation in lodge with breakfast during the trek days.
Highly experienced, helpful and friendly guide, porters (1 porter for 2 people), their food, accommodation, salary, equipment's, insurance)
Farewell dinner with cultural program
Necessary equipment ( Sleeping bag, duffle bag and trekking pole)
City sightseeing entry fees in Kathmandu
Government tax and service charge
Excluded in the price:
Lunch & dinner dinner during your trip .Meal cost about Rs.250 - Rs.430 per item depending on place where you eat)
Personal equipment and clothing
International flight ticket
Flight ticket KTM - Chitwan – PKR- KTM if clients prefer to fly
Any other activities or items not mentioned in the itinerary
Click here to see the detailed itinerary
Click here to see the departure dates
Child / 3rd Guest Policy:
 
* Child below 6yrs - FREE
* Child between 6 to 12yrs - Buy offer 2 
* Child above 12yrs/ Extra guest - Buy offer 1
Timings:
Check-in: Flexible
Check-out: 12:00 Noon
Groupon Partner: Himalayan Social Journey
Based in Nepal, Himalayan Social Journey has been in operation for over 15 years. Thier team of professionals are one of the leading trekking and tour companies in Nepal. The company offers customized packages making your holiday a truly memorable one. They provide all the essential equipment and plan the itineraries to ensure your safety and comfort.
Fine Print
What You Get
Offer 1 for an Adult - Rs.28999 per person: 10 Days Explore Nepal Package
Offer 2 for a Kid - Rs.14499 per person: 10 Days Explore Nepal Package
Inclusions:
Airport Pickup & drop
Accommodation in Three/ star category hotel ( Hotel Holy Himalaya or similar category) in Kathmandu, Hotel Splendid view or similar in Pokhara and Hotel Hermitage in Chitwan with breakfast in twin sharing basis
All meals with program in Chitwan
Rafting in Trishuli river with meals
Necessary equipment for rafting(Paddle. Helmet etc.)
Kathmandu city tour by car/van/hiece with English speaking guide
Transportation by deluxe tourist coach Kathmandu- Chitwan- Pokhara -Kathmandu
Accommodation in lodge with breakfast during the trek days.
Highly experienced, helpful and friendly guide, porters (1 porter for 2 people), their food, accommodation, salary, equipment's, insurance)
Farewell dinner with cultural program
Necessary equipment ( Sleeping bag, duffle bag and trekking pole)
City sightseeing entry fees in Kathmandu
Government tax and service charge
Validity
Valid until: 15.12.2015
Valid for 1 person
Maximum occupancy in a room is 3 persons
Timings:
Check-in: Flexible
Check-out: 12:00 Noon
Pay Extra at Location:
Child below 6yrs - FREE
Child between 6 to 12yrs - Buy offer 2
Child above 12yrs/ Extra guest - Buy offer 1
General Fine Print
Rooms subject to availability, limited rooms per day on promotional rates
Inclusive of all taxes and service charges
Prior reservation mandatory
For weekend reservations, we recommend calling in advance
Printout of voucher is mandatory
MANDATORY: Please mention traveler details: Name, Phone Number and email ID while filling booking form
Cancellation Policy:
No refund if booking is confirmed
Groupon Promise
If desired reservation dates are unavailable, contact us within 14 days of purchasing the voucher for full refund - No questions asked
This is only valid if the reservation request has been sent at least 7 days prior to date of travel
See the rules that apply to all deals